Subject: Polski Newsletter Optyki i Fotoniki – kwiecień 2022 – Fundacja Candela & PPTF
Polish Newsletter

on Optics and Photonics
edition #6 (May 2022)
We have a pleasure to present you May edition of PNOP –on International Day of Light 2022. This event, established by UNESCO in 2018, aims to raise public awareness of the importance and role of light-harnessing technologies in the modern world.
Enjoy your reading and let us know your feedback!
Candela Foundation
Polish Technological Platform on Photonics
Photonics Job Fair
On the occasion of the International Day of Light, the Photonics Society of Poland and the PPTF are organising a Photonics Job Fair. Companies from Poland and abroad have confirmed their participation. The event will take place next Friday, 20 May, in the Auditorium of the Physics Building of the Warsaw University of Technology.
Polish photonics on LASER World of PHOTONICS 2022
Europe's largest optics and photonics trade fair ended on 29 April. The event was attended by numerous representatives of Polish industry and research institutions: ChipCraft, Ensemble3, Fluence, Łukasiewicz - Institute of Microelectronics and Photonics, Perspectiva Solutions, Warsaw University of Technology, Solaris Optics, Sygnis, Top-GaN, VIGO Photonics and VIGO Ventures. The Polish pavilion was organised with the financial support of the Polish Investment and Trade Agency (PAIH).
VI Polska Konferencja Optyczna (PKO), Płock

12 – 15 JUNE 2022
Quantum Structure Infrared Photodetectors (QSIP), Kraków

10 – 15 JULY 2022
OPTO 2022: Warsaw, Warszawa

18 – 21 JULY 2022
22nd Polish-Slovak-Czech Optical Conference, Wojanów,

5– 9 SEPTEMBER 2022
9th Workshop on Physics and Technology of Semiconductor Lasers 2022, Kraków,

2– 6 OCTOBER 2022
PhD Student – laser physics
Wrocław University of Science and Technology
Contructor of laser devices
Airoptic
Mechatronic engineer
Sygnis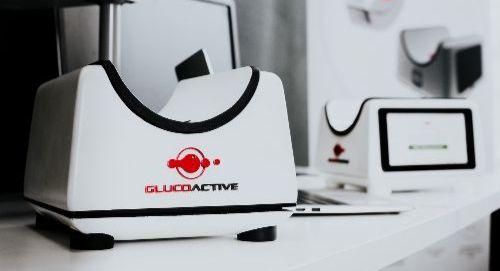 The first non-invasive blood glucose meter
Wroclaw-based startup GlucoActive has presented the prototype of GlucoStation - the world's first device to measure glucose using spectrophotometry. The device has already successfully passed its first clinical trials, confirming its potential use in diabetes therapy.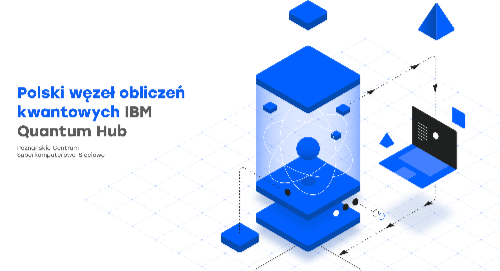 The first quantum hub in Poland
The first quantum hub in Central and Eastern Europe will be established in Poznan. Poznan Supercomputing and Networking Center (PSNC), joins IBM Quantum Network and together with Polish scientists and IBM will develop quantum computing technologies and their applications.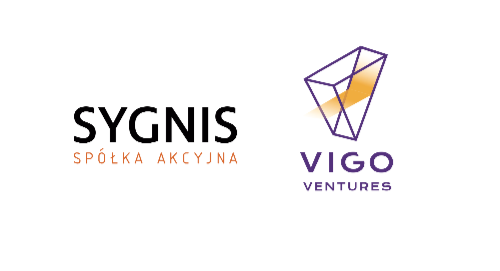 New members of PPTF
At the end of April two more companies joined the Polish Technological Platform on Photonics (PPTF): Sygnis SA, a company dealing with research and development in the areas of 3D printing, nano and biotechnology, and VIGO Ventures, a fund specialising in investments in photonics and deep tech companies.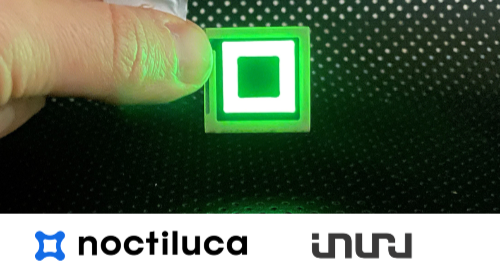 Collaboration on printed OLED
Representatives of INURU, a Berlin-Warsaw company developing OLED display printing technologies, and NOCTILUCA, a Torun-based company designing and manufacturing a new generation of OLED emitters, announced that they have established cooperation: the emitters from Torun will be used in new printed display designs.
Do you have something interesting to share?
Share it with us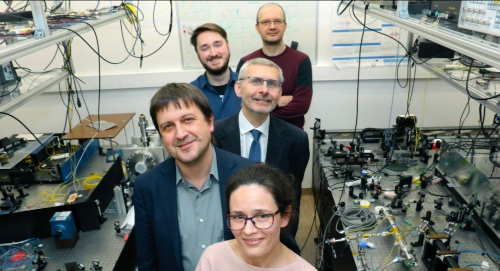 New tools for molecules
Physicists from the Nicolaus Copernicus University in collaboration with foreign researchers presented new methods of molecular spectroscopy in optical cavities using, among others, optical frequency combs. They are not only of great importance for the development of basic research, but also have many practical applications.
New method for advanced eye diagnostics
Optical coherence tomography (OCT) is one of the most fundamental tests used in the diagnosis of eye diseases. A team of scientists at ICTER has developed a time-frequency optical tomography OCT that suppresses noise and produces more accurate images paving path for future, more accurate, diagnostics of eye diseases.

PhotonHub Europe
PhotonHub Europe (PHE) is a pan-European support network for entrepreneurs and public institutions interested in developing and upgrading their businesses with photonics technologies. It offers free knowledge and training, the possibility to experiment, test and develop technologies, business support, funding support and a wide network of contacts - services that are available to all entities in the EU, with a special focus on SMEs. The PPTF is PHE's Polish partner as a national photonics hub.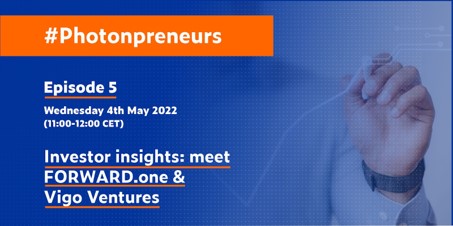 How to set up a photonic startup - and succeed
Setting up and running a business requires different competencies than research. PhotonHub supports budding entrepreneurs by providing the necessary knowledge, individual support in business skills and also by sharing experience. Photonpreneurs is a series of meetings with photonic entrepreneurs - also Polish - who often started their journey as researchers.
Do you know something worth sharing in the newsletter?
We are collecting information about optics and photonics community in Poland. The newsletters is created in close collaboration with the local community. If you want to share with us something interesting, newsworthy – please contact us by sending an mail to newsletter@candela.org.pl
The main organiser of the Newsletter is the Candela Foundation. Polish Technological Platform on Photonics is a partner of the initiative providing support and participates in editorial process.



Polish Technological Platform on Photonics

ul. Poznańska 129/133
05-850 Ożarów Mazowiecki
NIP: 1132964250
KRS: 0000719713
REGON: 369546598
Candela Foundation

ul. Grochowska 357/513
03-822 Warsawa
NIP: 1133028363
KRS: 0000885495
REGON:388293056